13 ways to strike Instagram gold on the Gold Coast
Those with a keen eye for the perfect shot can appreciate the Gold Coast provides effortless Instagram gold.
There is beauty literally around every corner, from palm-fringed beaches to azure coves, glistening skyscrapers and untouched 'burbs with 50s-style homes.
But where to start? No worries. We've got the low-down on where to capture those #beautifuldestinations-worthy shots of Queensland's golden child, the Gold Coast. Read on!
Burleigh Heads
There's something about Burleigh Heads that grips onto your heartstrings and never let's go. Maybe it's the beckoning of the deep blue to dive in, the slew of epic vantage points or the drool-worthy dining options. Or a combination of all three!
Whether you're taking off on a right-hander or dining oceanside, Burleigh Heads is the prime place to dip your toe into the pool that is the Gold Coast lifestyle.
Start your day with breakfast at Commune before strolling along James Street to snatch up some goodies from the many surf and lifestyle shops.
Photographer's tip: Local legend Sean Scott (@seanscottphotography) knows how special Burleigh Heads is (his namesake gallery is even located in the main strip of James Street).
If you're shooting sunrise, you need to check where the sun rises at the time of year you're there. In winter, you can see the sun rise from Burleigh Point, but, at the height of summer, it can be hidden behind the headland, so you need to move further north up Burleigh Beach to see it.
Miami/North Burleigh Hill
When Led Zeppelin sang about the Stairway to Heaven we reckon they were definitely talking about the rainbow-coloured stairs leading up to Miami/North Burleigh Hill.
Cue the 'wow's', 'ooh's' and 'ah's'! Step up to the viewing platforms, one overlooking the skyline down to Surfers Paradise, and the other showcasing Burleigh Heads down to Coolangatta.
It's a great rest spot along the coastline walking track or the prime spot for an afternoon picnic.
Photographer's tip: Aki (@keykodesign) is notorious for producing gorgeous pastel shots of the Gold Coast beaches and skyline, all the way from Main Beach to Burleigh Heads.
I love shooting from North Burleigh lookout just before sunset. Enjoy the view and if you are lucky, the sky will turn pastel pink and yellow. There aren't too many places to easily capture the GC coastline from this high up, and I don't normally use a tripod when shooting here. You can shoot any angle you like!
Burleigh Pavilion
The newest Gold Coast hot spot on the scene is Burleigh Pavilion located above the infamous Rick Shores in the heart of Burleigh Heads.
Panoramic views of the coastline back to Surfers Paradise is the primary reason it's so fondly adored. Followed closely by the fact that it's a 240-seat restaurant with a Michelin-starred chef and laidback beach bar wrapped into one.
White-washed walls and pops of pastel give us those Euro Summer vibes with colourful cocktails flowing and good times aplenty as you lap up the sea breeze.
Author's tip: Affectionately known as 'The Pav' by locals, head in early afternoon to nab a seat with a view and be in prime position to get those killer shots.
Miami Marketta
It's where foodies come to gorge and friends come to kick back. Miami Marketta is an open plan marketplace known for bringing locals and visitors together.
Wander the alley beneath strings of fairy lights and drool over the many food trucks before plonking yourself down at a communal dining space and maybe even making a new friend or two.
It's also a hot spot for hosting live gigs so be sure to check what's on while you're in town!
Author's tip: There's a brand new Gin Parlour on site and you have to see it! With a collection of over 90 small batch gins to choose from, the bar staff will whip up a specialty cocktail for you to lounge back and enjoy. My favourite? Peach Gin Fizz with muddled dragon fruit, peach syrup, bitters and tonic. Delish!
Tamborine Rainforest Skywalk
What better way to spend a sun-drenched day than ducking beneath towering rainforest canopies in the cool Gold Coast Hinterland.
The Tamborine Rainforest Skywalk is set on 30 acres of privately-owned rainforest by Cedar Creek Falls rock pools, where you can follow a 1.5km trail suspended 300 metres above. You can't be more immersed in nature than that!
Pop into Witches Falls Winery afterwards for a wine tasting and triple-cream truffle brie cheese, set amongst avocado trees and vineyards in a fairy-like garden. For more ideas, let this local show you around.
Photographer's tip: Ethan Cole (@ethancole_photography) is no stranger to snapping Mother Nature and implores visitors to be in the now and enjoy the moment while in the Gold Coast Hinterland:
Planning your day is key! Be sure to leave plenty of time, especially if you only get the day up in the Hinterland. There are more amazing spots up there than people know! Don't forget to check out the local cafes and shops as they have some of the best hospitality and you really get that local feel.
FuFu
This bright circular dining space is throwing major Palm Springs circa 1960 vibes in Mermaid Beach.
The brainchild of the team behind Bonita Bonita Mexican restaurant, FuFu defines itself as American Chinese-ish and we're here for it. Think Cheese Burger Spring Rolls (say whaaat?), Coconut Prawns with Curried Mango, and Prawn Dumplings with Creme Fraiche.
Author's tip: Head there for Happy Hour, on every day from 5-6pm, for a sundowner with $5 baos (on Wednesdays) while the afternoon light beams through this gorgeous space!
Lost World Day Spa
We wish every day looked like this – soaking in a hand-crafted wooden tub at Lost World Day Spa overlooking the McPherson Ranges and the Great Dividing Range. Oh, and did we mention there's a 25-metre infinity lap pool perched there too?
You'll find this Hinterland oasis at O'Reilly's Rainforest Retreat in the World Heritage-listed Lamington National Park, where a day of relaxation is the best way to follow up a day of adventure, exploring the surrounding hiking trails.
Photographer's tip: Tracey Skinner (@tracey__skinner) snapped this shot while unwinding in one of the suites at Lost World Spa *cue relaxation music*. She shared her thoughts on her stay and we're ready to check in ASAP:
Truly amazing and relaxing experience with tranquil surrounds. Stunning hikes are all on your doorstep and the staff are very accommodating and friendly. I can't fault my experience!
Tallebudgera Creek
No Photoshop here! Anyone who has ever been to Tallebudgera Creek can vouch for how incredibly blue the water is. Like a sea of sapphires glistening in the sun.
It's a local favourite with sheltered, calm swimming bays surrounded by sandy coves on the northern side and a stretch of pristine beach on the southern side. You can even hire a stand-up paddle board and cruise along the Creek.
How to get here? Park near the bridge and follow the trail down to the beach or take the Oceanview Track around the headland from Burleigh Heads for divine beach views.
Photographer's tip: Scroll through @_harrrryy_'s Instagram feed and you'll find a tonne of stunning vantage points overlooking Tallebudgera Creek. Here are his top tips:
Shoot at high tide as generally the water is super clear and blue around high tides. It's a fantastic place to shoot at any time of day, though personally, I like to shoot early in the morning to avoid too much glare on the surface of the water and also catch some beautiful sunrise colours. My favourite perspective is to shoot from the bridge, back towards the ocean, capturing the swimming beach and rock wall.
The Collective Palm Beach
This Palm Beach post-office-cum-urban dining space is a foodie's dream! With five different restaurants serving the one space, with cuisines like Italian, Mexican, Asian-fusion, American diner-style and contemporary Australian, fussy or indecisive eaters have never had it so easy.
It's a light, airy space filled with greenery (and even a self-watering herb garden wall) and a huge colourful (and 'gram-worthy) mural honouring The Collective's foundations of community and being #bettertogether.
Author's tip: After a morning spent at Tallebudgera Creek, head here for lunch and order a Tuna Poke and a Hugo Spritz to cool you down after catching rays. Pre-book and politely request a table on the rooftop for stellar views over Palm Beach.
Snapper Rocks, Coolangatta
It's a pro surfer haven with epic waves that tower in rows like corduroy when Huey (swell) comes to town!
Located on the northern side of Point Danger in Coolangatta, Snapper Rocks' point break forms part of a man-made Superbank, famous for hosting the annual World Surf League's Quicksilver and Boost Mobile Women's Pros.
If you're new to the surf game, surf around the bend at glassy Rainbow Bay where a sweeping right-hander is prime for beginners. Though watching the more experienced battle it out at Snapper is the perfect place to spark inspo to chase those pipe dreams.
Photographer's tip: Mitchell Pettigrew (@shipwreckphotography) loves to snap Snapper when the surf is pumping and he's shared his tip for getting the best seat in the house:
Get to Kirra look out early to get a good spot, especially if the swell is big!
Bam Bam Bakehouse
Ever knew you needed a Choux Bomb in your life? Neither did we until we met Bam Bam Bakehouse in Mermaid Beach and fell in love with literally every menu item *salivates on keyboard*.
With a cool, urban fit-out, it's really the food that is the centre of the camera lens. We're talking Mermaid Lattes, Croissant Eggs Benedict, Twice-Baked Almond Croissants and Salted Caramel Éclairs.
It's been frequented by the likes of Gold Coast girl-turned-Hollywood megastar, Margot Robbie, and Masterchef's Matt Preston, so keep your eyes peeled because you never know who you might be dining beside.
Author's tip: Pre-order your favourite sweet treat to have it freshly waiting for you on arrival. Don't be ashamed to take pics of your food before you devour it – this is one culinary experience you're going to want to remember forever.
Surfers Paradise
Surfers Paradise might be somewhere you remember visiting on those family holidays, filled with beach days and happy snaps under the infamous namesake sign.
Though look up and you'll see a glistening skyline that houses hot spots below – home to vibing rooftop bars like The Island (also a glam hotel) and dining meccas like Asian-inspired Chop Chop – and is far from the place in those childhood memories.
Photographer's tip: Ian Hollis (@ianhollisphotography) says there are so many amazing places to take photos of Surfers Paradise – you really just have to get out there and start snapping:
Best time of day to shoot for me would be sunrise and early morning as the sun portrays beautiful light over the ocean and the waves whilst also on to the amazing structures of Surfers Paradise. Anywhere along the main beach is a great vantage point as you're able to shoot the waves and surfers in the ocean, and then you're able to turn around and feel small amongst the huge buildings.
Nineteen at The Star
Arguably the chicest place to be on the Gold Coast at the moment, Nineteen at The Star is the rooftop level of their latest high-end tower, The Darling.
Headed up by culinary mogul Simon Gloftis of Hellenika, and entertainment guru, Billy Cross, this decadent restaurant and lounge bar is tantalising taste buds with signature dishes like Grilled Patagonian Toothfish and Rock Lobster Bolognese, in a world-class setting overlooking the Broadbeach horizon.
Author's tip: An intimate lunch here followed by cocktails by the infinity pool is what dreams are made of. Dress to impress – you'll want to be looking fresh in those 'gram shots and you never know who you may meet, being the home of the TV Week Logies and all.
Purlingbrook Falls
Set amongst lush rainforest in Springbrook National Park, Purlingbrook Falls flows down a huge cliff face, plunging into a cool rock pool below.
Take a dip here after following the 4km walking circuit through fragrant forests with only the sounds of nature to be heard.
Photographer's tip: Blaze Parsons (@blaze_parsons) is no stranger to shooting Gold Coast hot spots and shares his secret to getting the perfect perspective:
I like to go up and shoot after it's been raining. The falls always look beautiful when it's flowing!
In need of some 'gram inspo? Check out these 9 Instagrammers to follow in 2019.
Now that you know where to get the best shot, your Instagram likes will be blowing up like: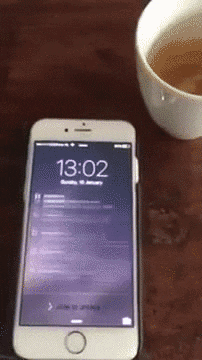 Do you know a spot for Instagram gold on the Gold Coast? Tell us in the comments below!
---
---
---