The new Hunger Games: Conquer 3 Brisbane City districts in 3 days
Queensland's capital could not be any more different (and aren't we glad) to the horrid Capitol of Panem from The Hunger Games.
'Round here we prefer sunshine and good times over survival and doom. And, if you substitute Peeta for Brisbane City and Gale for Moreton Island, you'll have yourself a love triangle worth fighting for.
So, volunteer as Tribute and conquer three Brisbane districts with this kick-ass 3-day itinerary (bow and arrow not required).
DAY 1, DISTRICT 2: SOUTH BANK
AM: Brekkie with Snapchat-worthy views
Start your morning at South Bank with a bowl of delicious goodness from the acai (pronounced ah-SAH-ee) specialists at Kiss the Berry. Acai are little purple berries (no, they're not the nightlock berries Katniss and Peeta threatened to eat). In fact, acai is one of the most nutritious superfoods on the planet.
If you're a first timer, try 'The Original' blend or opt for one of our faves, the 'Snykers Delight' which tastes like (you guessed it) Snickers. Yum!
Armed with your new favourite breakfast, head towards the river where you'll find the Wheel of Brisbane and lots of Snapchat opportunities.
AM: Channel your inner James Franco (the artist, not the actor)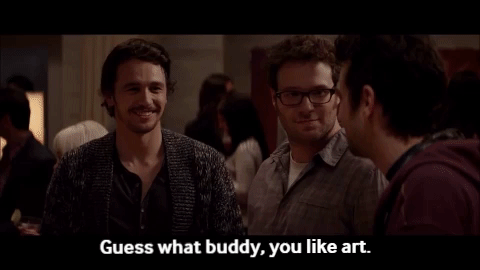 "You ever play video games? … Guess what buddy, you like art"
Head to the Queensland Art Gallery and Gallery of Modern Art (QAGOMA) to see some of the world's most amazing art exhibitions. QAGOMA has even showcased the work of Italian fashion house, Valentino. How's that for world-class? And just recently, it was the home of the MARVEL Universe, displaying costumes, sets and original comics from the likes of Thor, Avengers and Captain America.
Check out everything you need to know about Brisbane City's cultural heart here.
PM: Lunch, Dip, Sip
Grab lunch (and sneaky drinks) at Southbeach Social overlooking Streets Beach. Then hit the sand for some sun or take a dip and cool off.
If you're a lover of sweet things (like Effie Trinket), get yourself to Cowch. Their Nutella menu is sexier than Aussie heartthrob Liam Hemsworth. Big call? We know.
But, with treats like Nutello's Pizza, Nutella Waffles and Nutella Ice Cream, Liam just doesn't compare; (cue Drake voice) "I only love my bed and Nutella, I'm sorry."
Remember, Cowch is a dessert cocktail bar, so order a round of Candy Margaritas; jelly bean infused vodka and tequila served in a sherbet-rimmed glass and topped with bright pink fairy floss. Effie Trinket would be impressed.
PM: May the odds be ever in the Broncos' favour
You can't visit the home city of the mighty Brisbane Broncos and not watch a live game at Suncorp Stadium! Don't worry, you needn't break the bank to have a good time. Tickets start from as little as $29 ($20 if you're a full-time student). And if you're looking for a game day plan, we've got you covered.
If you're not into rugby league (or sports), spend your evening at Eat Street North Shore; a foodie's Disneyland built from shipping containers. From savoury snacks to mains and right through to delicious desserts, you can taste cuisines from nearly every corner of the world. If your night starts here, you're doing something right.
DAY 2, DISTRICT 1: BRISBANE CITY AND FORTITUDE VALLEY
AM: Shop it like it's hot
If you don't have your own personal Cinna to custom-design your outfits, you'll need to go shopping. And Brisbane City is the best place for just that. You can literally spend hours floating from shop to shop in Queen Street Mall or get lost in the larger department stores like Myer and David Jones. To save you from sore feet, here's a handy Brisbane shopping guide.
Not a big shopper? Here are 20 (almost) free things you can do in Brisbane. Better yet, let's raise that. Here are 100 things to see and do in Brisbane. Trust us, you won't get bored.
PM: Hankering for ice-cream
Down a little alley-looking street in Fortitude Valley, you'll find ice-cream heaven a.k.a Mister Fitz. Their colourful crazy creations look like something straight out of the Capitol of Panem. And, they taste soooo gooood.
Just read through their menu and you'll see why it's Brisbane's guilty pleasure. From ice-cream sandwiches called 'Big Papa' to 'Gold Digger' and 'Gettin' Jiggy Wit It' milkshakes, this place couldn't be any cooler if it tried.
PM: The Putt-er Games
Enter an old heritage-listed church at 25 Warner Street in Fortitude Valley and instead of pews and an altar, you'll find a cocktail bar and an insane two-storey 18-hole mini-golf course.
Each hole is decked out and the themes are absolute gold! From Game of Thrones and Snoop Dogg to Nirvana and Chubby Checker, you'll be amused and LOLing as you make your way around the course.
Holey Moley is the perfect spot for pre-drinks and pizza and you don't even need to finish your drinks at the bar. In the world of Holey Moley, you're allowed to drink and drive (cue golf pun).
PM: Hey Mr DJ, song pon de replay
And just when you think the night couldn't get any better, Brisbane City raises the bar another notch. From about 10pm, Fortitude Valley's nightlife is in full swing. Venture from club to club or pick your favourite and dance like no one's watching.
For all you need to know about Fortitude Valley, check out this guide.
DAY 3, DISTRICT 12: MORETON ISLAND
AM: Alright stop, island time
Take a morning ferry across to paradise – a.k.a Moreton Island. Tickets are $28 each way and the trip is about 1.5 hours from the Port of Brisbane. On board, the Micat Ferry has a café and viewing deck to keep you entertained until you reach the sandy shores.
While you're on Moreton Island, be sure to visit the wrecks on Moreton Island. All 15 of them have created a popular dive site just metres from the beach. Here are 7 ways to see these bad boys.
And if you're wondering, no the beach is nothing like that weird encircled beach from the Cornucopia Bloodbath scene in The Hunger Games: Catching Fire. In fact, the water here is crystal clear and, you can spot starfish on the sandy bottom.
PM: Two-wheeling on a beach
If you want a break from snorkelling (not sure why?), head to shore and go on a Segway tour with Tangatours. Introductory tours are $55 per person for 25 minutes and it beats walking.
Before jetting back to Brisbane, climb and (attempt to) ride one of the island's iconic sand dunes. The views from up here are amazing so bring your GoPro.
If you haven't had enough time in the sunshine, stay longer. Here's how you can spend 48 hours on sunny Moreton Island.
Tell your mates your next #squadgoals holiday is to Brisbane. And while you're here, don't forget to use the hashtag #thisisqueensland so we can follow your epic adventures.
OKAY MOCKINGJAYS, WHAT'S ON YOUR BRISBANE ITINERARY?
---
---
---